This is a part of my setup
ErgoDox
The ErgoDox is a DIY keyboard project initiated by Dominic Beauchamp. The design is ergonomic, split in two separate halves with a columnar layout.
I've been a happy user of ErgoDox EZ since 2016. It's my favorite part of the setup.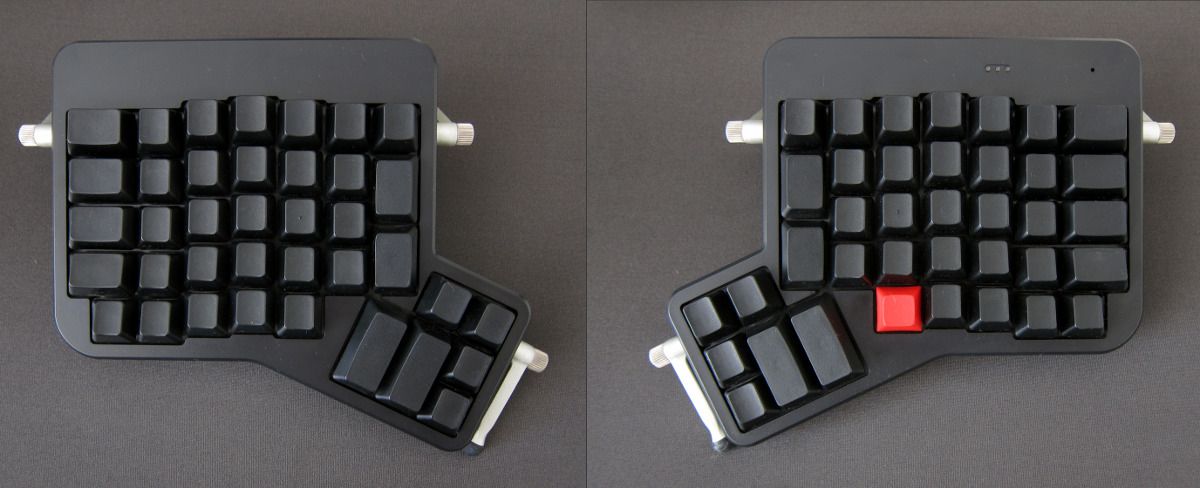 ErgoDox EZ v3 with Cherry MX Brown switches, blank black keycaps (and one red DSA keycap), tilt kit.
Why EZ, not DIY kit? High build-quality. Wrist rest and tilt kit. Excellent service. 2-year warranty. I have chosen Cherry MX Brown switches, blank DCS keycaps, and my custom layout.
Cherry MX Brown are good for typing and not that loud as blue ones.
My typing accuracy is at its best with DCS keycaps. I tried DSA for a month or so, but then returned to sculpted keycaps so my fingers always know where they are.
I picked blank keycaps, because when I'm typing I look at my screen, not my keyboard.
Tilt kit and wrist rest is absolute must have. Don't know how other ErdoDox users survive without them.
Layout
On ErgoDox I use Norman layout.
Download the layout from ergodox-ez.com
Tips and hints:
Vim key works this way: tap for ESC or hold to use it as CTRL.
To activate N-rollover hold left and right SHIFT, then press N.
To activate Mouse layer hold TT1.
To toggle between layers press and release TT1.